Do you want to know how to know your JAMB exam centre and date for the 2024/2025 session, as well as the JAMB examination timetable for this year?
The excitement and anticipation are building up as the Unified Tertiary Matriculation Examination (UTME) for 2024/2025 draws near.
"How to know my JAMB exam centre and date 2024/2025" is the most sought-after information on search engines this year.
In this article, we will provide you with all the essential details about your JAMB exam centre, date, and time for the 2024 session, along with the JAMB examination timetable.
We'll show you how to find out when and where you'll be taking your JAMB exam.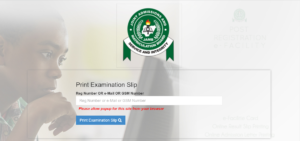 JAMB Examination Timetable 2024/2025
The JAMB examination timetable for the 2024/2025 UTME exam has been officially released.
However, the specifics of your exam date, centre, and time will only be accessible starting from April 9th, 2024.
How to Know Your JAMB Exam Centre and Date 2024/2025
To easily discover your JAMB exam details, follow these simple steps:
Visit the JAMB Exam Date, Center, and Time Portal at www.jamb.gov.ng.
Enter your 2024 JAMB Registration Number in the designated field.
Click on "Print Examination Slip" to access your exam date, time, venue, and centre.
If you encounter printing issues, such as "Examination Slip Printing Not Allowed," please try again later.
Additional Information:
Your UTME slip is your golden ticket to the exam hall; without it, you won't be allowed to enter and write your test.
If you face any challenges while trying to access your UTME examination details, consider visiting a JAMB-accredited centre near you or using the comment box below.
It's essential not to bring your phone into the JAMB examination hall.
Knowing your examination date, time, and venue is a process that can be done online.
Best of luck!