In a recent announcement, the Director-General of the Nigerian Law School, Prof. Isa Chiroma, revealed that a significant 65.09% of candidates emerged successful in the school's final examinations held in July.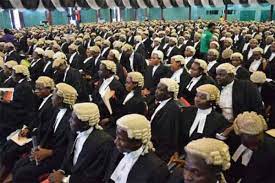 This impressive success rate was celebrated during the October 2023 Call to Bar ceremony in Abuja.
A total of 1,666 students took part in the challenging July examinations, and 1,085 of them demonstrated their dedication and commitment to the legal profession.
Mr. Chiroma commended the candidates and encouraged them to uphold the highest standards of the legal profession, emphasizing the importance of adhering to the norms and ethics that govern this noble field.
He further assured the public that both academic and non-academic staff members closely monitored the candidates during their training.
He attested to their character and qualifications, declaring them fit and proper for Call and admission to the Nigerian Bar.
At the ceremony, retired Justice Mary Peter-Odili, the chairman of the Body of Benchers, shared valuable advice with the graduands.
She emphasized the significance of serving the country with justice, humanity, and impartiality.
She encouraged them to continuously enhance their legal knowledge by staying updated on statutes, case laws, and legal opinions.
Moreover, Mrs. Peter-Odili reminded the new lawyers to show respect to their senior colleagues and to strictly adhere to the profession's dress code.
She also emphasized the responsible use of social media, as any misuse could tarnish the profession's reputation.
The event was not only a celebration of the graduates' achievements but also a moment of pride for their families.
Suleiman Sani, a parent of one of the graduands, expressed his gratitude and happiness for being able to witness his child's success.
He offered prayers for all the graduands, wishing them fruitful and successful legal careers, and advised them to remain appreciative of their parents' support.