WAEC Result 2023/2024 is officially out and the steps on how to check your SSCE grades are available on this page.
Candidates who have written the WAEC examination this year can now check their results online using the WAEC Result Checker portal at www.waecdirect.org.
In this article, we will provide you with all the necessary information on how to check your WAEC Result 2023/2024 using your phone number and Examination number and ensure that you understand the process easily.
The WAEC Result 2023 is usually released within 45 days after the end of the examination.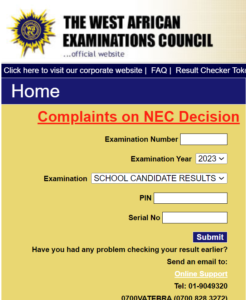 How to check WAEC Result 2023/2024
To check your result, you will need to follow these steps:
Visit the official website of WAEC, which is www.waecdirect.org.
Enter your examination number in the required field.

Select your examination year.

Choose the examination type, which is usually "May/June" for candidates who wrote the examination in May/June and "Nov/Dec" for candidates who wrote the examination in November/December.
Enter the card serial number and PIN of the scratch card that you purchased.
Finally, click on the "Submit" button to view your result.
Buy WAEC Scratch Card via WhatsApp – 08164595198
Alternatively, you can also check your WAEC Result 2023 through SMS.
How to Check WAEC Result Through SMS 2023
To check your WAEC result through SMS, follow the steps below:
 Compose an SMS with the following format: WAEC*ExamNo*PIN*ExamYear. For example, WAEC*4250101001*123456789012*2023.
Send the SMS to the shortcode 32327 on your mobile phone.

Wait for a few seconds to receive a response from the WAEC server.

The response will contain your WAEC result for the examination year you specified.
Please note that you will need to purchase a WAEC scratch card to get your PIN, which you will use to check your result.
The cost of the SMS is N30 only, and you can send it using MTN, Airtel, or Glo network.
If you do not receive your result via SMS, you can repeat the process again.
SMS charges will be applied when checking your WASSCE result through text messages.
Additional Information:
It is important to emphasize that you cannot check your WAEC result without having a scratch card in 2023.
WAEC scratch cards are sold in authorized banks and dealers across West Africa.
You will need to purchase a scratch card to be able to access your result on the WAEC website.
Make sure you have your examination number and scratch card details handy before you proceed to check your result.
Wrapping Up…
WAEC Result 2023 is now available for checking on the WAEC Result checker portal at www.waecdirect.org.
Follow the steps provided in this article to check your result easily and avoid fraudulent methods.
If you encounter any difficulties or have concerns, you can contact WAEC directly for assistance.
You can also visit any West African Examinations Council (WAEC) office near you (Ghana, Nigeria, Sierra Leone, Liberia, and the Gambia) to get your original WAEC result for 2023.
We hope that you found this article informative and helpful.
If you have any more questions, feel free to ask using the comment box below!