The University of Calabar (UNICAL) has been recognized with the prestigious Award of Bronze for its outstanding contributions in enhancing access to higher education for individuals with special needs during the 2022/2023 academic session.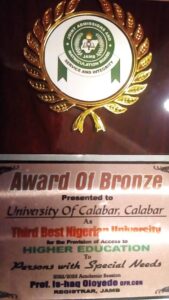 At the prestigious event held at the Abuja Intercontinental Hotel on September 25th and 26th, 2023, UNICAL stood tall as the third-best Nigerian university, earning the coveted Bronze Award.
The University of Ilorin and Nnamdi Azikiwe University clinched the first and second positions respectively.
This award showcased UNICAL's position as the top-ranking institution in the South-South geopolitical zone, a testament to its unwavering commitment to providing equal educational opportunities.
The National Conference, themed "Towards Increasing Equal Opportunity of Access to Higher Education in Nigeria," aimed to address the challenges faced by individuals with disabilities in their pursuit of higher education.
It emphasized the importance of inclusivity and equal educational opportunities for all, irrespective of physical abilities.
Under the exceptional leadership of Prof. Florence Banku Obi, UNICAL has consistently championed inclusivity and equal opportunities in education.
The university's proactive approach in recognizing and supporting individuals with disabilities has earned it not only the Bronze Award but also an outstanding award of patronship from the JAMB Equal Opportunity Group.