Breaking news: UNILORIN VC urges FG to declare a state of emergency on education.
Prof. Wahab Egbewole, the vice chancellor of the University of Ilorin, has urged the federal government to declare an emergency in the field of education.
The announcement was made by Egbewole at the university's Friday lecture and ceremonies for the 37th and 38th convocations.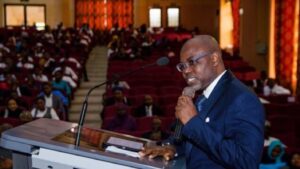 According to him, the education sector in the country, particularly higher education, has suffered avoidable setbacks in the recent past, leading to a brain drain.
"Our institutions need more hands to deliver on their mandates and funds for serious academic work, research, and collaborations for desired outputs.
"We wish to assure Mr President that we will not rest on our oars for advancement and cutting-edge research aimed at development and community engagement.
"We are on the cusp of a new era, one filled with opportunities and challenges that will shape the future of education and our society," he said.
The vice chancellor avowed that the institution would continue the legacy of academic excellence and prepare its students to be the leaders, innovators, and problem solvers of tomorrow.
He urged the graduates to think outside the box, be open-minded, and collaborate with others to find solutions to complex issues.
"Your education at the University of Ilorin has prepared you for this, and I have no doubt that you will rise to the challenges," he said.
Prof. Egbewole went on to boast that "our university has moved up the ranking ladder of leading ivory towers in Nigeria, and for the 10th consecutive year, we again topped the list of most sought-after universities in the country for the 2023 Unified Tertiary Matriculation Examination (UTME)."